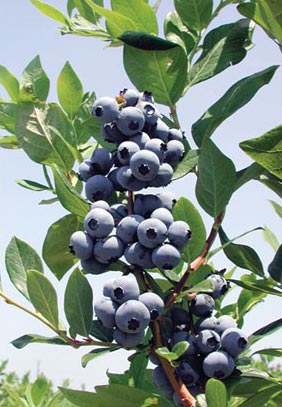 Blueberries are available from mid-June through mid-August with the peak of production usually occurring between late June and late July. All our blueberries are sustainably grown using drip irrigation, which conserves 50% more water than traditional overhead sprinkler methods. State of the art Pest Management programs, means our growers can use less pesticides, producing a healthier berry.
Our Blueberries are hand-picked into plastic flats, immediately cooled and packed within 1 or 2 hours after harvesting. The berries are sorted, graded and packed on stainless steel equipment designed for efficient packing as well as for food safety requirements. After being packed, the berries are forced-air cooled down to 38 degrees F and stored at this temperature until shipped.
All blueberries are graded according to Jersey Fruit standards, which are more stringent than USDA standards. Quality criteria include; firmness, bloom, size, color, overall appearance and fullness of clamshell. Only quality product is allowed in the co-op's box and inferior product must be sent to processing. This insures consumers will receive a full clamshell of high quality blueberries.