Find a recipe for you and your family that uses fresh fruit from New Jersey!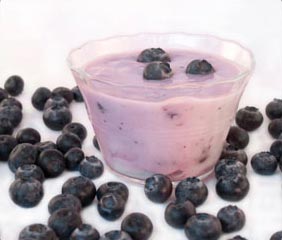 Blueberries
Chilled Blueberry Soup (Serves 6)
4 1/2 cups blueberries, fresh or unsweetened frozen
1 1/2 cups pineapple juice, unsweetened
1 1/2 tsp lemon juice
3/4 tbsp vanilla extract
2 tbsp low-fat yogurt, plain
Place 3 cups blueberries, vanilla, and pineapple and lemon juices in blender and puree until smooth. Divide into 6 bowls that have been chilled. Stir 1/4 cup of the remaining blueberries into each bowl and top with a teaspoon of yogurt.
---
Blueberry Cobbler (Serves 6)
1 cup Flour
1 cup Sugar
1 cup Milk
1 tsp Vanilla
1 Egg
1 Stick of butter
16 oz Blueberries
Melt butter in a 9×13 inch baking dish. Mix together the flour, sugar, milk, vanilla, and egg in a large mixing bowl. Add to the baking dish with the melted butter. Add the blueberries. Don't mix them in; just add them. Bake at 350 degrees for 30 to 40 minutes.
---
Blueberry Potato Salad (Serves 6)
1/4 cup White Wine Vinegar
1 tbsp Olive Oil
1/2 tsp Sugar
1/2 tsp Salt
1/2 tsp Dried Basil; Crushed
1/8 tsp Black Pepper
4 cups Potatoes; Cooked And Sliced
1 cup Fresh Blueberries
1/2 cup Cucumber; Diced
1/2 cup Carrot; Shredded
2 tbsp Scallions; Chopped
2 tbsp Parsley; Chopped
Blend together well the vinegar, oil, sugar, salt, basil, and pepper. Add the mixture to a large bowl; add the potatoes then mix well. Stir in the blueberries, carrot and cucumber. Sprinkle with the chopped scallions and parsley.
---
French Toast with Fresh Blueberries (Serves 4)
3 eggs
1 tsp vanilla Cinnamon, to taste
2 tbsp butter
1 loaf white bread cut into 1-inch slices
2 cups fresh blueberries
2 cups Powdered sugar for dusting on top
2 cups Maple syrup, warmed
In a shallow dish beat together the eggs, vanilla, and cinnamon. In a non-stick skillet or griddle melt butter over moderate heat. Dip bread slices into egg mixture and transfer to hot skillet and cook for 2-3 minutes per side until golden brown. Transfer French toast to a plate, sprinkle with blueberries and powdered sugar. Serve with warm maple syrup.
---
Blueberry Oat Bars (Makes 10 Bars)
1 3/4 cup Quaker Oats, uncooked — (quick or old-fashioned)
1 1/2 cup All-purpose flour
3/4 cup Brown sugar, firmly packed
1/2 cup Chopped nuts
1/2 tsp Baking soda
1/2 tsp Salt (optional)
3/4 cup Margarine or butter; melted
2 cups Fresh or frozen blueberries
1/2 cup Granulated sugar
3 tbsp Water
2 tbsp Cornstarch
2 tsp Lemon juice
Preheat oven to 350 degrees F. Grease an 11×7-inch glass baking dish. Combine oats, flour, brown sugar, nuts, baking soda and salt. Add margarine, mixing until crumbly. Reserve ¾ cup mixture; press remaining mixture onto bottom of prepared dish. Bake 10 minutes. Meanwhile, combine blueberries, granulated sugar and 2 tablespoons water. Bring to a boil, simmer 2 minutes, uncovered, stirring occasionally. Combine remaining 1 tablespoon water, cornstarch, and lemon juice; mix well. Gradually stir into blueberry mixture; cook and stir about 30 seconds or until thickened. Spread over partially baked base to within 1/4 inch of edge; sprinkle with reserved oat mixture. Bake 18 to 20 minutes or until topping is golden brown. Cool on wire rack; cut into bars. Store tightly covered.
NUTRITIONAL ANALYSIS per bar: * calories 272 * carbohydrates 37 g * protein 4 g * fat 12 g * calcium 24 mg * sodium 150 mg * cholesterol 0 mg * dietary fiber 2 g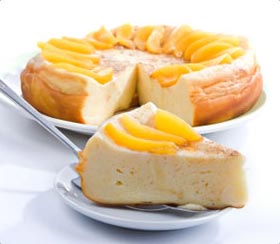 Peaches
Peach Pie (Serves 6)
6 tbsp Butter, melted
1/3 cup + 2 tbsp butter
1 1/4 cup Sugar
1 Graham cracker crust
6 Peaches, sliced
1 Cinnamon
Mix the melted butter, butter and sugar. Sprinkle half of the mixture in a 9-inch unbaked Graham crust. Arrange sliced fresh peaches in the pie shell until crust is well-filled. Spread rest of sugar mixture on top of peaches. Sprinkle with cinnamon. Bake at 400 degrees until bubbly, about 20-30 minutes.
---
Peach Short Cake (Serves 6 – 8)
Dessert:
3 med-lg Peaches
1/2 cup sugar
1/2 cup milk
1 cup flour
1 tsp baking powder
1/4 tsp salt
1 tsp vanilla
Syrup:
Line pan with peaches. Mix all dessert ingredients. Pour over peaches. Mix syrup ingredients and pour over batter. Bake at 350 deg for 1 hour.
---
Peach Melba
1/2 cup Part-skim ricotta cheese
2 tsp Sweetener (equiv)
1 tsp Vanilla
1 medium ripe peach, peel & slice
2 tsp reduced cal raspberry jam
In a small bowl, combine ricotta cheese, sweetener and vanilla. Mix well with fork or spoon. Spoon peaches over cheese. Spoon raspberry spread over peaches.
---
Crusty Peach Cobbler (Serves 8)
8 cups fresh peaches peeled/sliced
2 cups sugar
2 tbsp all purpose flour — to 4 tbsp
1/2 tsp ground nutmeg
1 tsp vanilla
1/3 cup butter or margarine
1/3 cup pastry for double crust pie
1/3 cup vanilla ice cream
Combine peaches, sugar, flour and nutmeg in a Dutch oven; set aside until a syrup forms. Bring peach mixture to a boil; reduce heat to low and cook 10 minutes or until tender. Remove from heat; add vanilla and butter, stirring until butter melts.
Roll half of pastry to 1/8″ thickness on a lightly floured surface; cut into an 8″ square. Spoon half of peaches into a lightly greased 8″ square pan; top with pastry square.Bake at 475~ for 12 minutes or until lightly browned.
Spoon remaining peaches over baked pastry square. Roll remaining pastry to 1/8″ thickness and cut into 1″ strips; arrange in lattice design over peaches. Bake an additional 15-18 minutes or until browned. Spoon into serving bowls and top each with a scoop of ice cream.